On September 15, 2014, Eddie C. Brown, CEO and Founder of Brown Capital Management, and his wife, C. Sylvia Brown, helped to make Maryland history with the unveiling of a portrait of Frederick Douglass at the Governor's official residence in Annapolis.
This portrait of the Maryland-born slave turned abolitionist leader, is the first African American portrait to grace the walls of Government House. It was presented at an evening reception with Gov. Martin O'Malley, first lady Katie Curran O'Malley, Lt. Gov. Anthony G. Brown, U.S. Labor Secretary Thomas Perez, Susan Taylor (former editor-in-chief, Essence Magazine), Khephra Burns and Ted Mack, and hundreds of guests.
The painting, by renowned artist Simmie Knox, is the result of a partnership between the State of Maryland and Eddie C. Brown, Chairman, CEO and founder of Brown Capital Management, LLC—the oldest African American investment firm in Maryland and the second oldest firm in the country.
"Thanks to the support of Eddie and Sylvia Brown, and the exceptional talent of Simmie Knox, we've left the next generation with an inspiring tribute to one of the greatest Americans our country has ever known," said Gov. O'Malley. "With the unveiling of the Frederick Douglass portrait, Maryland begins the next two hundred years of leading our country, together."
For many years, Mr. Brown and his wife have made significant philanthropic contributions to the SEED schools in Baltimore, Md. and Washington, D.C., as well as the Maryland Institute of College of Art (MICA) and the Baltimore Museum of Art. In fact, the Eddie C. and C. Sylvia Brown Family Foundation has been making philanthropic gifts for nearly 20 years. And this philanthropy is not only personal. Every member of the Brown Capital Management Team is encouraged to contribute money and time to the Maryland community. The firm partners with many organizations doing important work and has pledged to match the financial contributions of its employees.
"Frederick Douglass famously said 'I would unite with anybody to do right and with nobody to do wrong.' Commissioning this portrait of Douglass, a great American, under the leadership of Governor O'Malley for the Government House was simply the right thing to do, the right choice for me and my family," said Eddie C. Brown, Chairman, CEO and Founder of Brown Capital Management.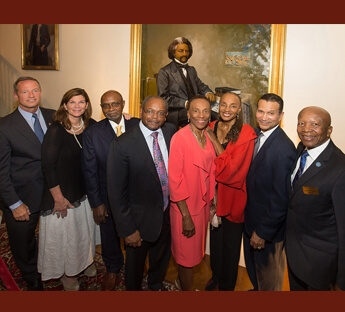 Governor O'Malley and First Lady Katie O'Malley, Simmie Knox, Eddie Brown, Sylvia Brown, Susan Taylor, Khephra Burns and Ted Mack